Grippe and Drip
The Cough, Cold & Flu Kit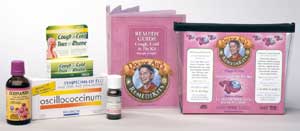 Click image to enlarge





Nip the miseries of cold and flu in the bud! Arm yourself with the ultimate defense. Immune-boosting Echinacea in powerful tincture form, to help fight viral and bacterial infections. Plus the leading homeopathic weapons against all the symptoms of the flu, coughs and cold, sore throat, and bronchitis. And the power of Eucalyptus for sinus congestion, cold sores, and headache. Why suffer in sniffles? Fight back!

Contains: Cough & Cold 4 g, Echinacea 50 ml, Eucalyptus Oil 10 ml, Oscillococcinum 6 g. Plus Doctor Avi's easy-to-follow Remedy Guide that tells you all about the remedies and how to use them. All in a high-quality, re-usable pouch, you'll be happy to have for many years to come!

More about the remedies

See all our kits!
The Cough, Cold & Flu Kit