Let's Get Physical…emotional and spiritual
The Sports & Trauma Kit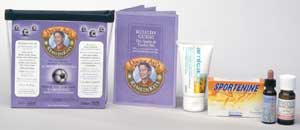 Click image to enlarge





If you're active, this one's for you. Heal sports injuries fast. Kiss aching muscles good-bye. Prevent lactic acid from building up in the first place! Stomp all over athlete's foot. Deal with the shock and trauma that come with accidents. Wherever you work-out or play, you'll want this kit in your bag.

Contains: Arnicagel 40 g, Sportenine 22 tablets, Tea Tree Oil 10 ml, Traumica 10 ml. Plus Doctor Avi's easy-to-follow Remedy Guide that tells you all about the remedies and how to use them. All in a high-quality, re-usable pouch, you'll be happy to have for many years to come!

More about the remedies

See all our kits!